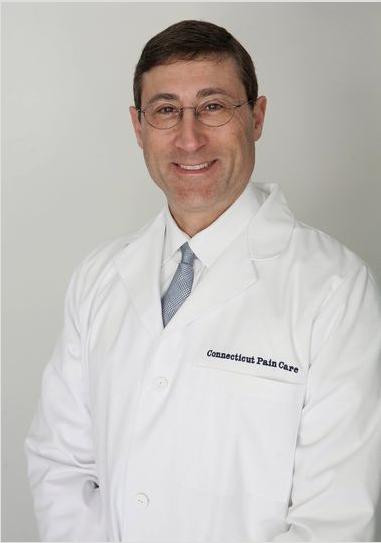 Dr. David Kloth is the founder and medical director of Connecticut Pain Care. He began practicing medicine in Connecticut in 1991 as a member of the Danbury Hospital Anesthesia Department. During his time at the hospital Dr. Kloth served as the Director of Acute Pain Management and developed the Chronic Pain Service. In 1995, Dr. Kloth decided to open Connecticut Pain Care so that he could focus on meeting the needs of the chronic pain community. Dr. Kloth feels strongly about the importance of education and service in the practice of medicine. Service comes from providing quality patient care, while also working with different groups to help maintain access to care for patients on a local, state, and national level.
Dr. Kloth began his education at Union College where he earned a Bachelor's degree in Biology and Math. While pursuing his degrees, he spent three summers performing research in the Cardiovascular Experimental Surgery Laboratory at the Berg Institute. This experience served to confirm his love of medicine and following graduation, Dr. Kloth enrolled in the New York University School of Medicine. He completed his residency at the Hospital of the University of Pennsylvania where he focused on Cardiothoracic and Pain Management and served as the Co-Director of the Resident Journal Club. Since graduating from his residency program, Dr. Kloth has maintained his commitment to education, attending numerous lectures, classes, and conferences on the practice of pain management and emerging technology and treatments. He maintains multiple certifications including the American Board of Anesthesiology with additional certification in the subspecialty of pain management. He is also holds certification from the American Board of Interventional Pain Physicians and he is the only physician in the state of Connecticut to hold this certification. He is also a Fellow of Interventional Pain Practice through the World Institute of Pain. Acknowledging the contributions of the people who mentored him during his education, Dr. Kloth routinely teaches courses on various pain management treatments.
Dr. Kloth began his commitment to service locally, serving on the Danbury Hospital Ethics Committee from July of 1997 until April of 2004. He has served as the Section Chief for Interventional Pain Management at Danbury Hospital from 2004-11. Impressed with their commitment to preserving patient access to care and providing educational experiences for pain management physicians, Dr. Kloth became an active member of the American Society of Interventional Pain Physicians from its inception in 1998. He has served this organization as the Executive Vice President (2001-2005) and the President (2005-2006) and has served continuously on the Board of Directors from 1998 to the present. Eager to take what he learned from ASIPP back to his home state of Connecticut, Dr. Kloth founded the Connecticut Pain Society where he has served as the President (1999-2005 & 2006-2010) and Executive Director (1999 – present). In Connecticut, Dr. Kloth has served on the Connecticut Medicare Carrier Advisory Committee, the Connecticut Prescription Drug Monitoring Working Group, and the Connecticut Worker's Compensation Medical Advisory Board.
In 2005 Dr. Kloth became involved with the leadership of another society, the North American Neuromodulation Society. With this organization he has served on the Board of Directors from 2005 -2013, acted as the Treasurer from 2009-2011, and President-elect in 2012 and 2013. In December of 2013, he will become the President of this 1000 plus physician society. His belief in the positive impact of neuromodulation therapies on the medical community fuels his desire to make this therapy more widely available and more accessible to patients.
Dr. Kloth also has a strong belief in the benefits of regenerative medicine and has trained with some of the leading experts in this field. These techniques have evolved over the years and Dr. Kloth is pleased to offer the latest advances in these therapies, which include Protein Rich Plasma injections (PRP) and Stem Cell injections. These treatments allow Dr. Kloth to offer patients a less invasive treatment option for their chronic musculoskeletal injuries Dr. Kloth continues to work to make this a more widely accepted and offered treatment through his lectures on this therapy which promotes its use in treating chronic pain patients.
Dr. Kloth has also worked extensively on the recognition of Pain Management as a specialty. When he first began his practice, pain management was viewed as a relatively new specialty. He has published numerous articles in pain management journals on a wide variety of treatments and the issues facing pain management physicians. As the specialty gained recognition in the medical community, Dr. Kloth saw that the community at large still had misconceptions about the specialty. Since 2009, Dr. Kloth has chaired the ASIPP Public Relations Committee to promote the field of pain management and to specifically improve the public's, media's, insurance carrier's, and government's understanding of this evolving and complex field of medicine.
To promote patient understanding of their conditions and the available treatments, Dr. Kloth and two other physicians he met through his work with ASIPP, wrote a book entitled Pain Wise (published in 2011). This book is meant to help pain management patients understand their pain conditions and the treatments being offered to them. Dr. Kloth continues to provide interviews with numerous media outlets in an attempt to provide information on the specialty and clear up many of the common misconceptions about pain treatments and his specialty. He has been quoted on issues ranging from prescription drug abuse to issues with insurance carriers in many major media outlets.
Even with his commitment to education and service, Dr. Kloth still makes time for his first love, treating patients. He continues to offer patients in the Danbury, New Canaan, and Waterbury community access to leading-edge treatments.